XIV. Tours of duty
All the Royal tours took place on railways. The Mysore state had special Royal Bogies in Broad gauge, meter gauge and narrow gauge so that Royal parties could travel on railways throughout India. These were highly ornamented bogies to be the last bogie in a train. I enjoyed train travel very much.
1. To Bombay with HH Yuvarani and HH Maharani once stayed at Gwalior House and Once at Travancore House
2. To Ooty during summer each year for 4 years for periods ranging from a month to 40 days at Mysore palace at Fernhill on Ooty hills.
3.To Delhi near Chalkeri (HH Maharani father who was a petty maharaja near Jaipur staying at the bungalow of her highnesses sisters husband, the home minsister of Jaipur state once for 2 months and second time to leave her once and for all time.( HH Maharani,Satya Prema Kumari first wife of jayachamaraja Wodeyar)
4. To Sanand 4 times, once with HH Yuvarani and thrice with Yuvarani of sanand _ Sujaya. Stayed at palace of Yuvaraja, husband of Sujaya at Sanand 30 miles from ahmedabad. I used to follow her with DD to shopping of Sujaya.
5. To Bharatpur twice with Sardar Devaraje urs, first time for submitting invitation to HH of Bharatpur who was brother of HH , and second time to marriage of Bhratpur maharaja's daughter and give Mysore palace presents.
6. About six times to Bombay with Sujaya staying 3 times at Anchorage( Mysore palace bungalow) opposite Boribunder, once staying at Taj hotel,twice at Bungalow of BM Srinivasiah's who owned Mysore soap factory.
I am appending map of the Jaipur/Bharatpur area below.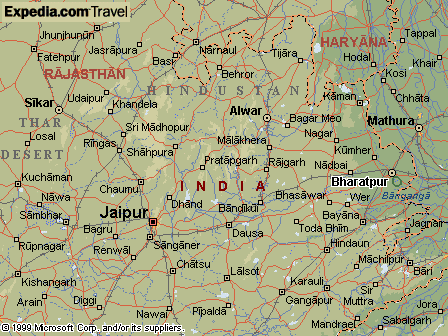 Demise of HH Jayachamaraja Wodeyar
HH Jayachamaraja Wodeyar died during Devaraje Urs chief ministry during the 1970's. We know he committed suicide by grinding diamond and drinking it. It was because he was summoned to court and he felt as an ex-king, it was below his personal dignity to be taken to court. He got a raw deal as an ex-king.
He was made Rajapramukh- a Governor of Mysore state- during 1960-65. Then Indira Gandhi removed his privy purse. He was promised Rs 30 lakhs in 1947, by Vallabhai Patel per year. That was a princely sum worth about 5 crores in 1996. Gradually the inflation ate away at its value. During 1968-69 it was removed altogether by parliament because of that woman Indira Gandhi.
All the property he had was eaten away by his so-called friends. It is also known that the Garuda dwaja stambha of Trinayaneshwara swamy temple fell. It is a very bad omen. It happened just before Jayachamaraja Wodeyars death.
Devaraje Urs was the chief minister and he made sure that the suicide was declared as natural death to prevent any controversy.

Wealth at the khajane
I was the frist one to make a list of all the gold and silver jewelry at palace kept in Chubbs. The cost estimate in early 1930's was about Rs 80 lakhs when the price of gold was low. By today's(1998) standard that would have been worth nearly Rs 400 crores. The weight of silver utensils was about 4 tons. Excluding Ambari I estimate that in 1930's there was about 85 lakhs worth of jewelry in the Chubbs. The cost of gold was Rs 15/sovereign or about 8 grams. Cost of silver was Rs 1 per about 12 grams. There was about 2 to 3 tons of gold and about 20-30 tons of silver. Totally there was a huge mass of material in the Chubbs.